15 Nov

Movember updates at Levelone

And the wheels on my bike go round and round…round and round. Sound familiar? On Friday 9th of Movember the wheels on the bike stopped going round and round due to a split wheel rim, caused by one of the spokes pulling right through the aluminium. It might be worth noting the the bike takes daily punishment on the 45 mile treks, as about 90% of cycling takes place on forest tracks and cross country routes, but who thought a 1000 miles would not be without a few mechanical failures! Big thanks to the mechanics at Sprockets, Kilmarnock who were able to locate a replacement rear wheel in a day, allowing me to get back to the grind on Sunday 11th of Movember.

Daily cycling down the Ayrshire coast encounters some terrific weather. 30 knot winds Monday & Tuesday, with monsoon like conditions (Drizzle / Smir / Really Wet Rain, call it what you will) on Wednesday & Thursday. A lesser mortal would question their sanity in such conditions, but I am driven on every day by the fact my efforts are all for a good cause – Ayrshire Cancer Support. If you would like to sponsor me on my Tache / Cycle quest, please dig deep and get involved, you can fill in a sponsor sheet or donate online at my Just Giving Page, just follow the link below.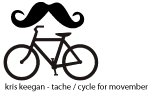 ……onward & upward…..
[wpdm_package id=6]